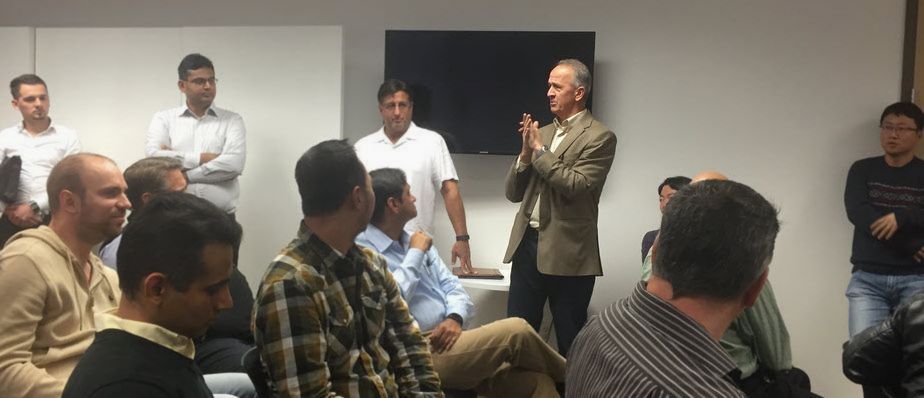 Executive Presence: Multiply Your Leadership Impact in one day!
Dear Silicon Valley Professional,
Are you being tuned out, passed-over and left-behind because the boss thinks you can't lead?  Are you wondering how to demonstrate and convince others you have greater potential?
If you're struggling to exert leadership influence, if your career results aren't matching your abilities and efforts, then this one day workshop is essential for you!
You'll meet with peers, explore new leadership models and practice new skills. You'll literally build and deliver an innovation proposal for your firm or industry. You'll review and act out the core leadership challenge of mobilizing a team in the right direction.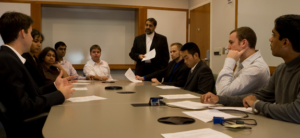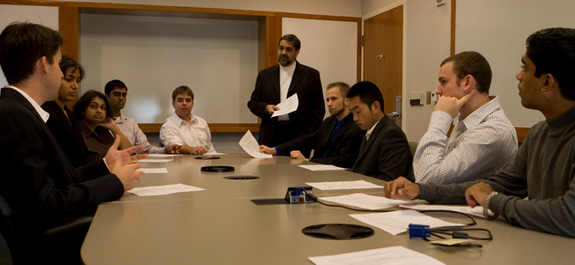 You'll get expert AND peer feedback. You'll learn message construction, delivery strategy, and Executive Presence skills. In one day. This workshop is new and may not be repeated ever at this price. Find more information and description below. Please contact me, Roy Terry at 408-605-0846 urgently if you have questions. To create maximum learning, attendance is limited.
Specifically, gain the ability, In any meeting to:
Cut the static, get respectful attention. Deliver a concise problem analysis. Specify future action and get consensus.
Do all this predictably and reliably. How much would that ability be worth in your career?
This opportunity is a hands-on "how to" for everyone who needs leadership impact. Looking for leverage and impact your organization? Sign up!
Core Skill Take-aways include:
  How to structure a pragmatic vision (This matters even on a small scale!),
  How to conduct a leadership intervention (There's a template), and
  How to interact with rock-solid authority (It's a learnable act).
All demonstrated, all pragmatic, all clearly explained and adoptable techniques. Doable.
One day with a new skill + insight + pathway can make a lasting difference!
Get started with a chance to re-shape your thinking about what is possible. About what you can accomplish. About how the leadership world works.
The One-Day Leadership MAKE-OVER will also give you an eye-opening experience of a better you. More confident, more savvy, more articulate, and more impressive.
Sound good? It can happen. That's because this special event will lead you into leadership – and Executive Presence – insights you have probably not experience or understood previously. In one day, you'll develop a leadership innovation project that will build your analytic, verbal, and presentation skills. Yes, we use a safety net! You'll be supported with a comprehensive framework for your leadership challenge, you'll have the support of expert and helpful peers. You'll benefit from supporting your fellow learners and gaining perspective from the challenges and solutions faced by other growing executives.
Please Note: This is a small-scale event allowing for detailed feedback and practice. Ticket availability is strictly capped at 20 attendees.
Please join this highly interactive and performance-oriented event to finally get your leadership development goals in motion. Note: no sky-diving, bungees, or fire-walking is involved in this event. But you may feel like it is!
Join us if you truly care want a practical path to Executive Presence and successful leadership.
This leadership development opportunity is based on decades of communication modeling, public speaking, facilitation and hundreds of sessions helping founders, CEOs, and managers form, articulate, and executive initiatives and innovations. Come ready to work, speak, advocate and LEAD!
Detailed agenda will be available after signup.
Your Presenter, Roy Terry is a communication and leadership expert who has coached and trained numerous founders and technical leaders in Silicon Valley and San Francisco.
He is principal consultant at Executive Presence Now, and his complementary practice, ThePrimalPitch.com, serves both local and overseas companies. Several client companies have subsequently been funded for a combined amount of over 2 million dollars. Mr. Terry was featured in February of 2014 as a pitch coaching expert on the French Business network BFMTV. Clients include Talentoday, Video Stitch, and Market Carrot. He is a tech veteran with over 30 years' experience in Silicon Valley as software developer, project lead, and consultant. Mr. Terry has been training and coaching communication in the Silicon Valley since 1995 and past clients include Hewlett Packard and Oracle Corporation for professional communication skills. Mr. Terry is sought after as a public speaker, master NLP practitioner. His trainings incorporate relevant knowledge and practice from stage acting, standup, and improv.
As "Silicon Valley's Pitch Doctor", Roy has conducted many workshops and helped 100s of founders with pitching and storytelling. Clients include winners of K-TECH west, Launch Festival 2014, and The French New Enterprise Laureates. Mr. Terry is the preferred pitch coach for KOTRA, KISED, The French Tech Hub, Techcode, ZNation Lab, Innowest, Hack Temple, and the Cardinal Pitch Club.
~~ More background on my Executive Presence Offerings ~~
You've reached a nice level of status and recognition. Your technical and task skills are strong. Now you're looking at larger opportunities. But moving up is no longer automatic.
Why? It's simply a fact that in the high-tech, high-growth environment, many professionals make great progress with expertise. BUT, to advance higher you need leadership and communication skills, in short, Executive Presence. Further, you may have blockers, habits that worked years ago but no longer fit you.
[Special Note to Entrepreneurs and Founders: Executive Presence is how innovation happens. The ability to command a room. to persuade with vision, to capture loyalty are crucial for startups and small businesses too. VCs are looking for EP even in your pitch. So come along and get ahead of the game]
It's not magic, it's method. But please don't think that just more time and experience will get you moving. Executive skills don't work that way.
Sometimes called "The It Factor"
According to Forbes, executive presence is "the ability to project gravitas – confidence, poise under pressure and decisiveness" as well as "communication – including speaking skills, assertiveness and the ability to read an audience or situation – and appearance." And the Forbes survey of 268 senior executives reported that executive presence accounts for 26% of what it takes to get promoted.
Hourly Schedule
9:15

-

9:45

Meet & Greet

Coffee, pastries, and discussion
9:45

-

10:00

Introduction

Goals, Key Points, Outline of Program
10:00

-

11:00

Map Your Territory

Capture your specific leadership landscape, prep for development through the day
11:00

-

12:00

Content Deep Dive

PRESENCE IS POWER Relate models to performance and do whole room practice
12:30

-

1:45

Lunch Break

Nearby shared space availble for discussion and peer feedback
1:50

-

3:00

Leadership Messages

MESSAGE IS MASTERY simple structures revealed to make powerful ideas stick
3:00

-

4:00

Delivery Studio Experience

Practice Message deliveries, dealing with feedback, tuneups, peer support
4:00

-

4:30

DEBRIEF + Future Focus

Visit unanswer questions, path forward, Final message run-throughs
4:30

-

5:00

Closing Conversations

Informal networking, discussions and offers.
Next Event
Date

Jan 18 2018

Time

networking before and after
12:15 PM - 01:45 PM